By Elsie Stormberg/Nebraska News Service
Sam Aughe had his first full night of sleep in over three years on Nov. 10, 2020, the day before Veteran's Day. 
By full night, Aughe means he only got up one time. 
Aughe, 69, is plagued by restless nights due to chronic pain, bladder cancer and his thoughts about life, but one night changed the direction of his life permanently. 
A few weeks prior, Aughe purchased a mustard yellow 1946 Chevy Sedan Delivery he's been chasing since he was 17 years old. His first encounter with the yellow Chevy was right before being drafted into the Vietnam War in 1968. It was owned by the town's butcher, Tony Bohac, but Bohac said it was not for sale. 
When Aughe came back after sustaining a major injury, no one knew where the car went. He began working for the city and then the co-op which was when the ugly car came back into his life. He was on the job as a mechanic in the garage of his good friend Fran Siedhoff. There it was. Just sitting there. The ugly, old car he had attempted to purchase when he was 17 and then again when he returned from Vietnam. 
Aughe bought the car on the spot. 
This is the story of how a sleepless night caused an ordinary man with an interesting story to create a memorial one could never forget.
Crete's Sam Aughe sits in his 1946 Chevy Sedan during the Davey Car Show on Saturday, Aug. 22, 2020, in Davey. Aughe, a Vietnam veteran, said he wasn't at the car show to compete, but instead to continue his mission to honor those who have served.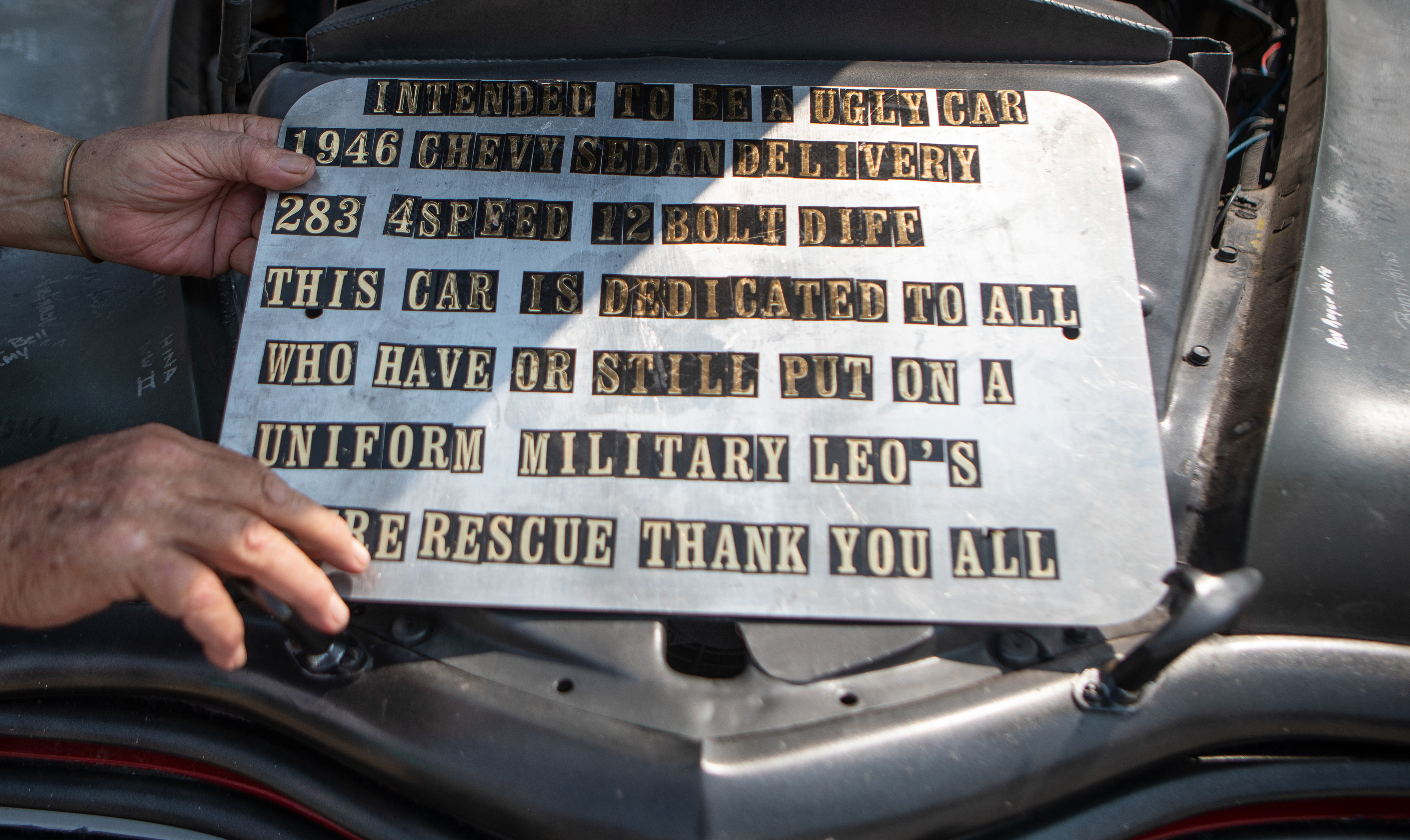 Sam Aughe places a placard explaining his 1946 Chevy Sedan at the Davey Car Show on Saturday, Aug. 22, 2020, in Davey. The placard reads, "Intending to be [an] ugly car…This car is dedicated to all who have or still put on a uniform. " Aughe has owned the "ugly" Sedan for eight years. The original purpose for purchasing the car was to make it something that could compete in car shows. After one of many sleepless nights, Aughe decided that the car would have a different function.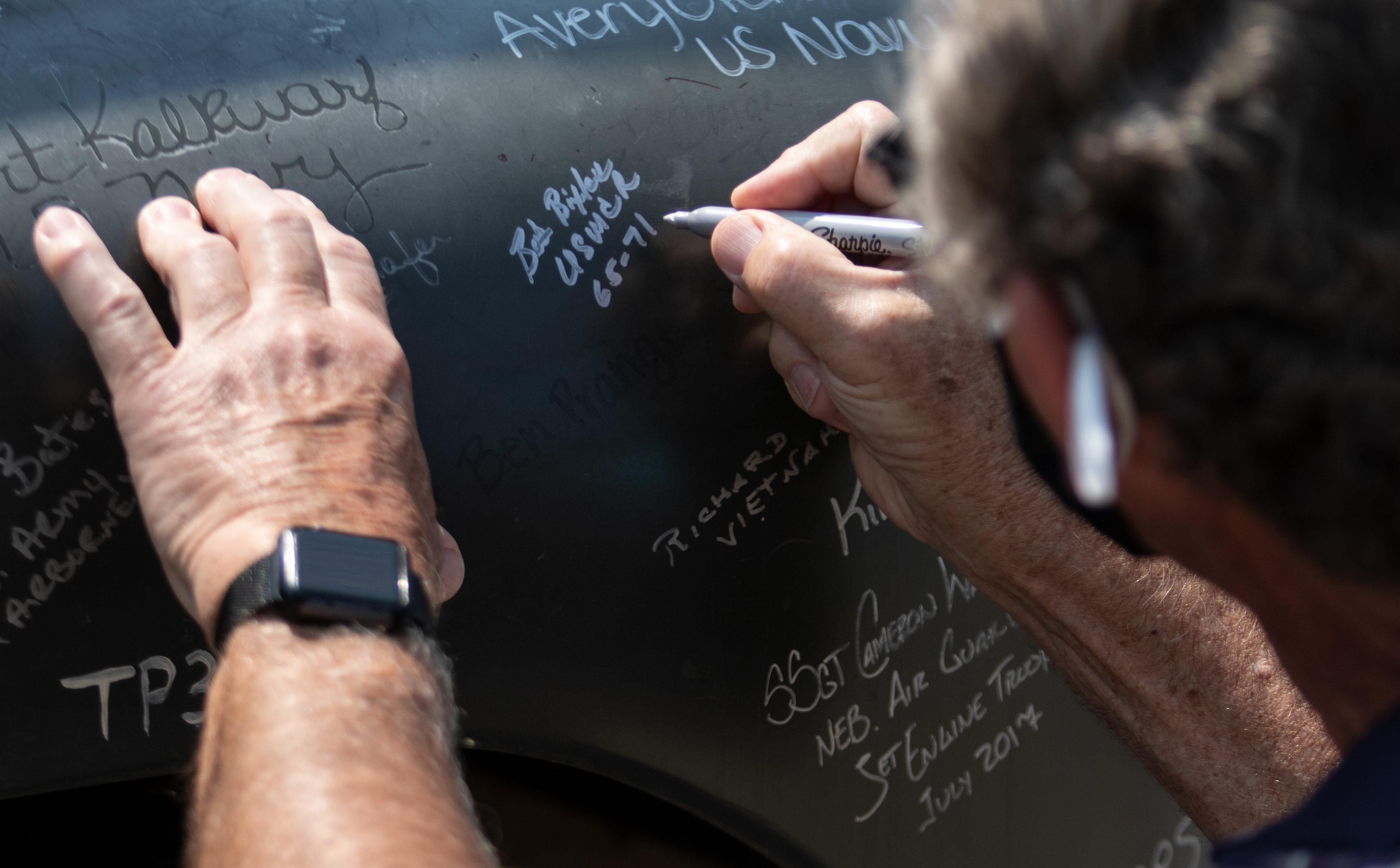 A veteran signs his name on Aughe's truck during the Davey Car Show on Saturday, Aug. 22, 2020, in Davey. Aughe invites veterans, current service members and veteran family members to honor by signing names in Sharpie. Aughe estimates there are 3,500-plus names on the car from all 50 states and around the world.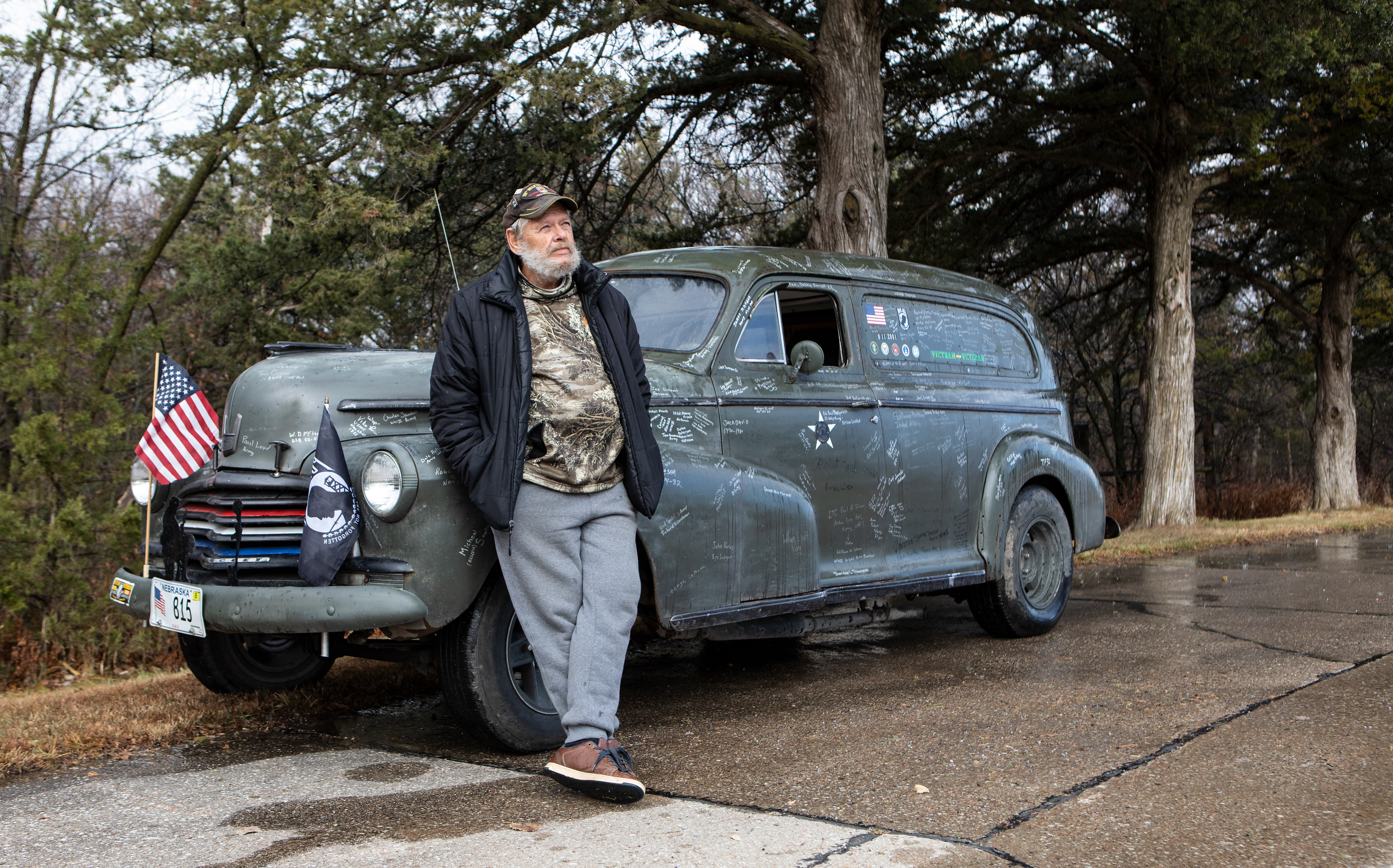 Sam Aughe leans against his 1946 Chevy Sedan he purchased eight years ago at the Riverside Cemetery in Crete, on Wednesday, Nov. 11, 2020.  Aughe, a Vietnam veteran, was born in Arizona, but moved to Crete before his senior year of high school for his father's work. There he met his future wife. Aughe likes to jokingly say she asked him out because, "she was desperate." After graduating from high school, he joined the army and was soon drafted in 1968 for the Vietnam War. 

Sam Aughe shows a photo of him looking at his 1946 Chevy Sedan the day he purchased it on Sept.4, 2020, in Crete. Prior to being drafted in 1968, Aughe tried to purchase the car for the first time. When he came back from Vietnam, he tried to find the car but it was nowhere to be found. He attributes his attraction to the car to the ugliness of it. Originally, it adorned brown and mustard-colored paint and smelled like mouse feces. 

Sam Aughe's 1946 Chevy Sedan Delivery on the day he purchased it eight years ago. While working as a mechanic for Crete's co-op, he stumbled upon it while in the garage of close friend Fran Siedhoff. Siedhoff found it in a junkyard and had it parked for about 30 years. Aughe put in an offer right then and there and Siedhoff agreed. 

Sam Aughe's 1946 Chevy Sedan Delivery five months and $7,000 later. Aughe initially wanted the car to be one that could compete in car shows, but after a sleepless night a few weeks after purchasing the Chevy he said the idea just came to him. "It wasn't for me," Aughe said. He painted over the dried-mustard yellow and deep rust brown with an olive color. Now, the car is well-stocked with Sharpies for any veteran or veteran relative to sign. 
Sam Aughe makes fixes to his 1946 Chevy Sedan at his home in Crete on Friday, Sept. 4, 2020. Aughe spends his days making updates to the Chevy and fortifying the signatures from throughout the country and the world. In the past, Aughe has been offered upwards of $150,000 for the car and has been asked to send it to the Smithsonian to be preserved. Instead, he's passing it on to his grandson. 

Sam Aughe, left, takes a photo of his grandson John Parks trapped in the lawn chair that broke under him in their home in Crete on Saturday, Sept. 12, 2020. Aughe plans to pass it down to his grandson when he is no longer able to drive or when Aughe, as he plainly puts it, dies. (Photo by Elsie Stormberg)
Sam Aughe, left, speaks with his grandson John Parks during a car show at Duncan Aviation on Saturday, Sept. 25, 2020, in Lincoln. Parks often joins Aughe for car shows to show off his truck, but also for training. Aughe and Parks take turns talking to those interested in the car so as to prepare Parks for someday owning the car.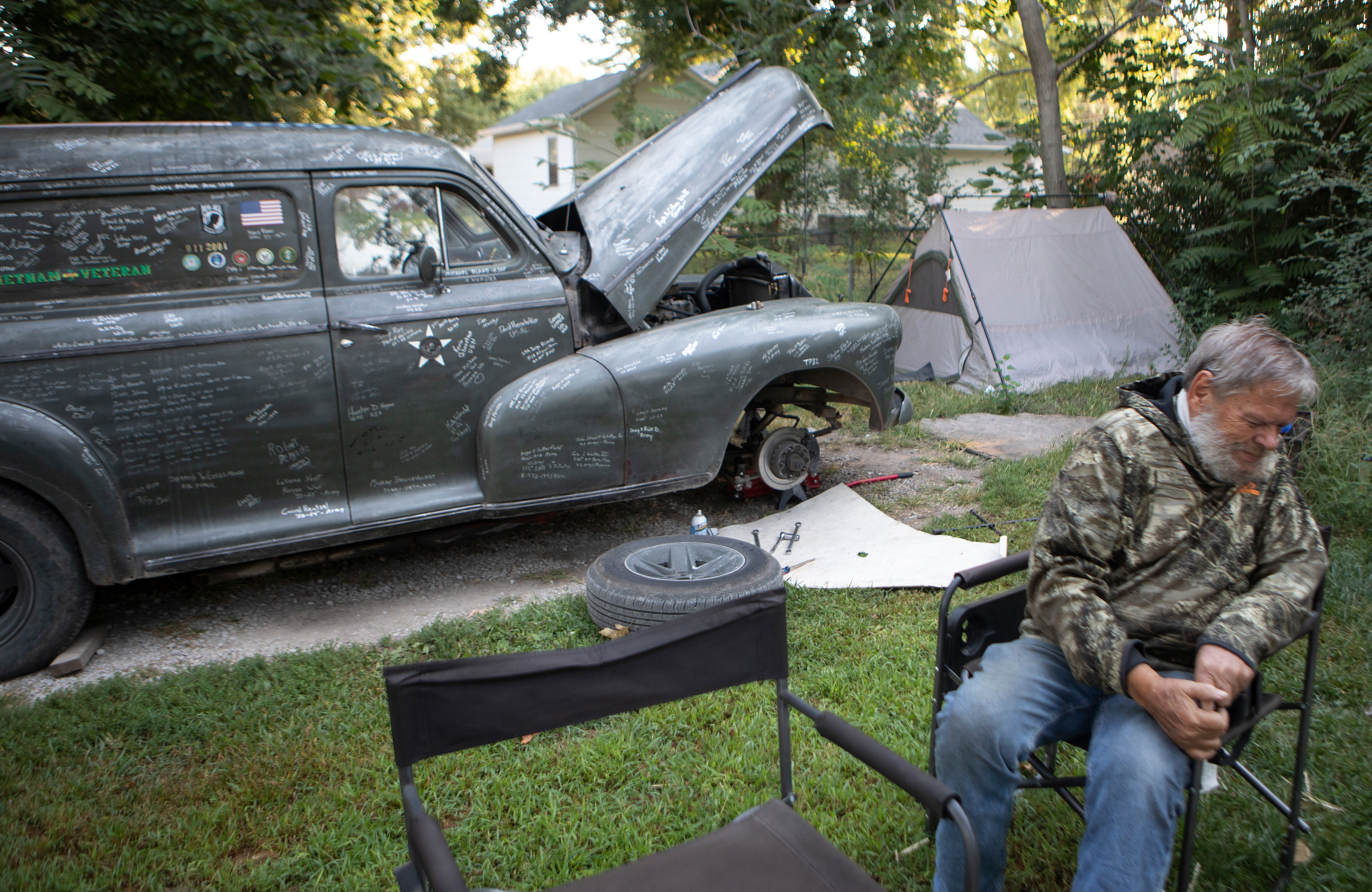 Sam Aughe cringes in pain outside of his home in Crete on Friday, Sept. 4, 2020. From the moment he wakes up, Aughe is in pain. In the morning, he said he's usually at a six on the pain scale but as the day goes on it gets closer or an eight or a nine. A lot of his pain is caused by an injury he sustained while in Vietnam which ultimately sent him back to Crete. He's had hip replacements and several different surgeries and has been battling bladder cancer for the past two years. 

A bottle of gabapentin sits in Sam Aughe's 1946 Chevy Sedan Delivery during a car show at Duncan Aviation on Saturday, Sept. 25, 2020, in Lincoln, Nebraska. Aughe usually has to take at least one gabapentin pill, which is a pain reliever to get through the day, sometimes two. He also has to take various other medicines including a muscle relaxer when his back starts spasming.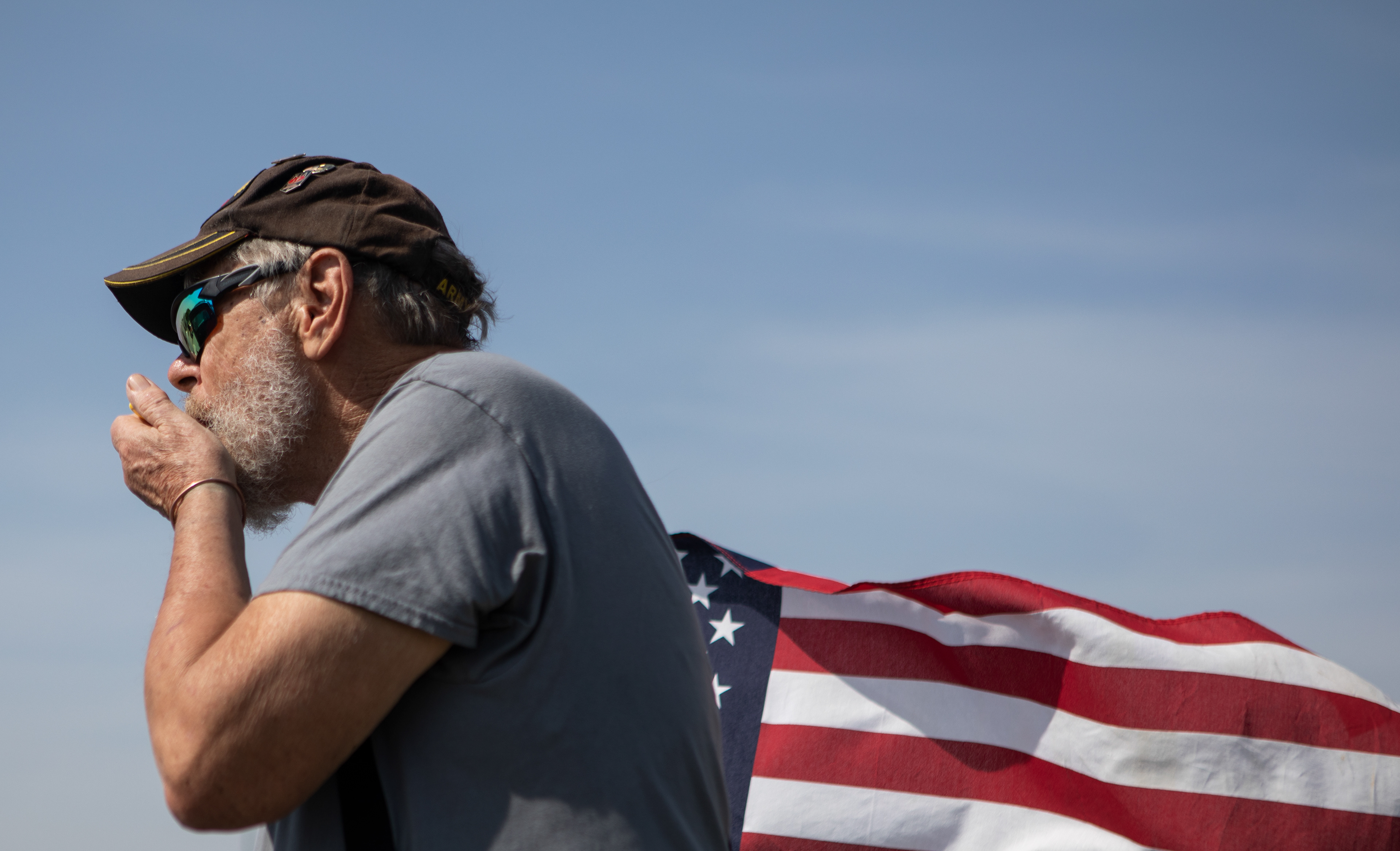 Sam Aughe takes a gabapentin pill during a car show at Duncan Aviation to help with pain on Saturday, Sept. 25, 2020, in Lincoln. Aughe said the hardest part about the pain he deals with everyday is that he can't play with his great grandchild.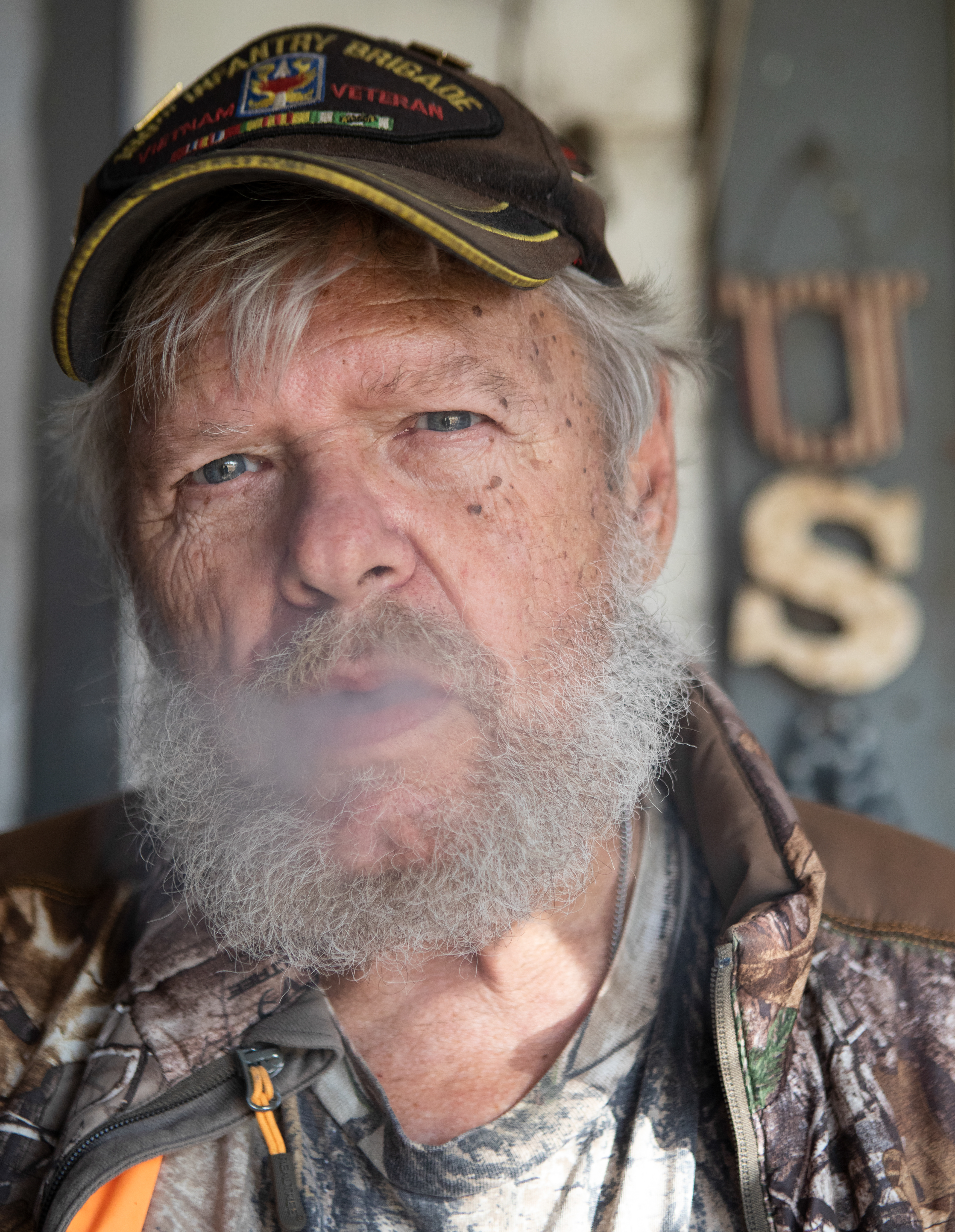 Sam Aughe smokes a cigarette outside his home in Crete, on Saturday, Nov. 7, 2020. Recently, Aughe has decided to let everything go. He's stopped taking medicines that aren't pain related. He skipped his last cancer-related appointment. For Aughe, he doesn't want his great grandchild to remember him as someone who was in pain all the time.

Sam Aughe rests his hand while smoking a cigarette outside his home in Crete, on Saturday, Nov. 7, 2020. At 69, Aughe is one of the last living members of the group of men he served with. He tends to ponder if they were smart for dying early or if he himself is stupid for still living. This thought is one of many that keep him up at night.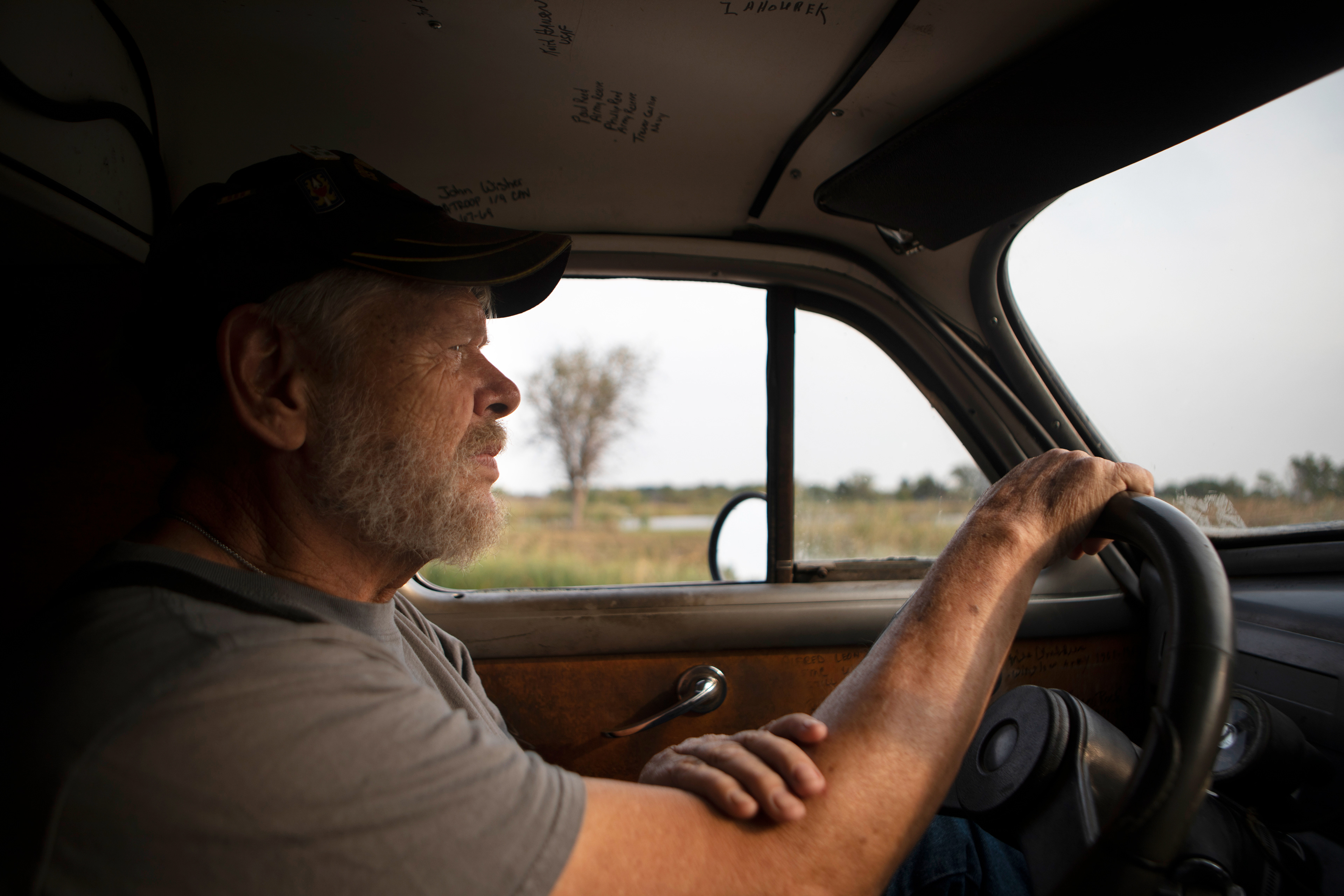 Sam Aughe drives his 1946 Chevy Sedan Delivery on Saturday, Sept. 25, 2020, in Lincoln Aughe is plagued by sleepless nights. He's tired of the pain. He doesn't want to be remembered for the pain. He's tired of wondering about the what ifs in regards to friends and fellow veterans he's lost. While his memory will always remain with his family and the mobile memorial he's created, he's letting go.